You're ahead of the AI game
Teams using Salesforce have a tremendous advantage when it comes to rolling out Artificial Intelligence capabilities. Salesforce is quickly adding AI features on top of your existing customer data allowing you to rapidly unlock potential cost savings and revenue gains.
RealZips delivers shortcuts to getting value from AI,
eliminating the need to run data cleanup projects.
Tap into Artificial Intelligence
AI technology is rapidly becoming available and 84% of leaders agree that generative AI will serve their customers better. A whopping 92% of large businesses that already have invested in AI are seeing returns.
Make sure to start testing existing AI capabilities in Salesforce already today, learning how to make predictive analytics. Keep a close eye on what's gradually becoming available in the promising generative AI space right inside your Salesforce organization.
The data problem
Bad data quality and missing data are major hurdles for most organizations as they start tapping into AI opportunities. The premise of the new AI technology is however limited by the quality of your own data in Salesforce. 
Hard way: Scrub your Salesforce data
There are few shortcuts to improving your data, while preparing for AI-driven workflows. Here are a few common approaches for getting your data in shape: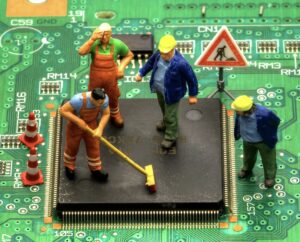 Update Account records with address, industry and key data points.

Update Contact records with address, title and valid email.

Look into services that test if contact email addresses are active. 

Harmonize and standardize picklists where possible.

Implement methods for record deduplication.

Identify old open Opportunities and start cleaning up.
Once you start digging into customer data that's been added over time, chances are that even a small data scrub project will take a lot of time and effort.
Keep in mind you probably have apps connected to Salesforce that use existing datapoints. Your Salesforce automation is very likely to use 'bad data' which makes data cleanup harder.
Easy way: Add RealZips GeoData
The RealZips app creates an automatic relationship between a Salesforce record and endless datapoints on the related zip code record. Instantly, you'll have access to datapoints from the zip code, such as city, county, state, territory, and much more. Data you can add is actually endless. Have a look at the  thousands of datasets available in our online store: RealDatasets.com
RealZips gives you immediate shortcuts for tapping into AI, since the RealZips app automatically augments existing data by adding contextual data to your records. For example you can geofence all customers by county, and prepare for AI predictive analytics by county!

Don't break integrations, searches, reports & dashboards
The RealZips app does not need to change any existing data, making the implementation of RealZips completely risk free. RealZips is simply bypassing all the problems associated with updating existing data fields to new values.
Most of us have seen data update projects break app integrations, mess up searches, render list views useless, distort function formula calculations, not to mention making critical reports and dashboards useless. RealZips makes it possible avoid these issues simply by delivering a data augmentation solution.
Add automatic contextual data
Contextual geographic data unlocks tremendous possibilities, that your team will be using every day across marketing, sales and customer support.
Think about contextual data as an automated process that provides critical market conditions for each record in Salesforce. Contextual data makes it possible to focus marketing and sales in geographic areas where your team is most likely to deliver success for your customers. 
Examples of contextual data from RealZips, used to improve all records in Salesforce:
Local incentives that will help your team sell a product or service.

Local laws and regulations that may promote (or block) the sale of your product.

Automatic geofencing by for example county, organizing customers by local jurisdictions.
Travel distance between sales team members and prospective customers.


Distance between open opportunities and your own service locations.

Distance between existing customers and your competitions' closest locations.

Insights into your customers' customers: age groups, income and consumer preferences.

Weather conditions such as sun hours per year, climate zone and FEMA based disaster risk.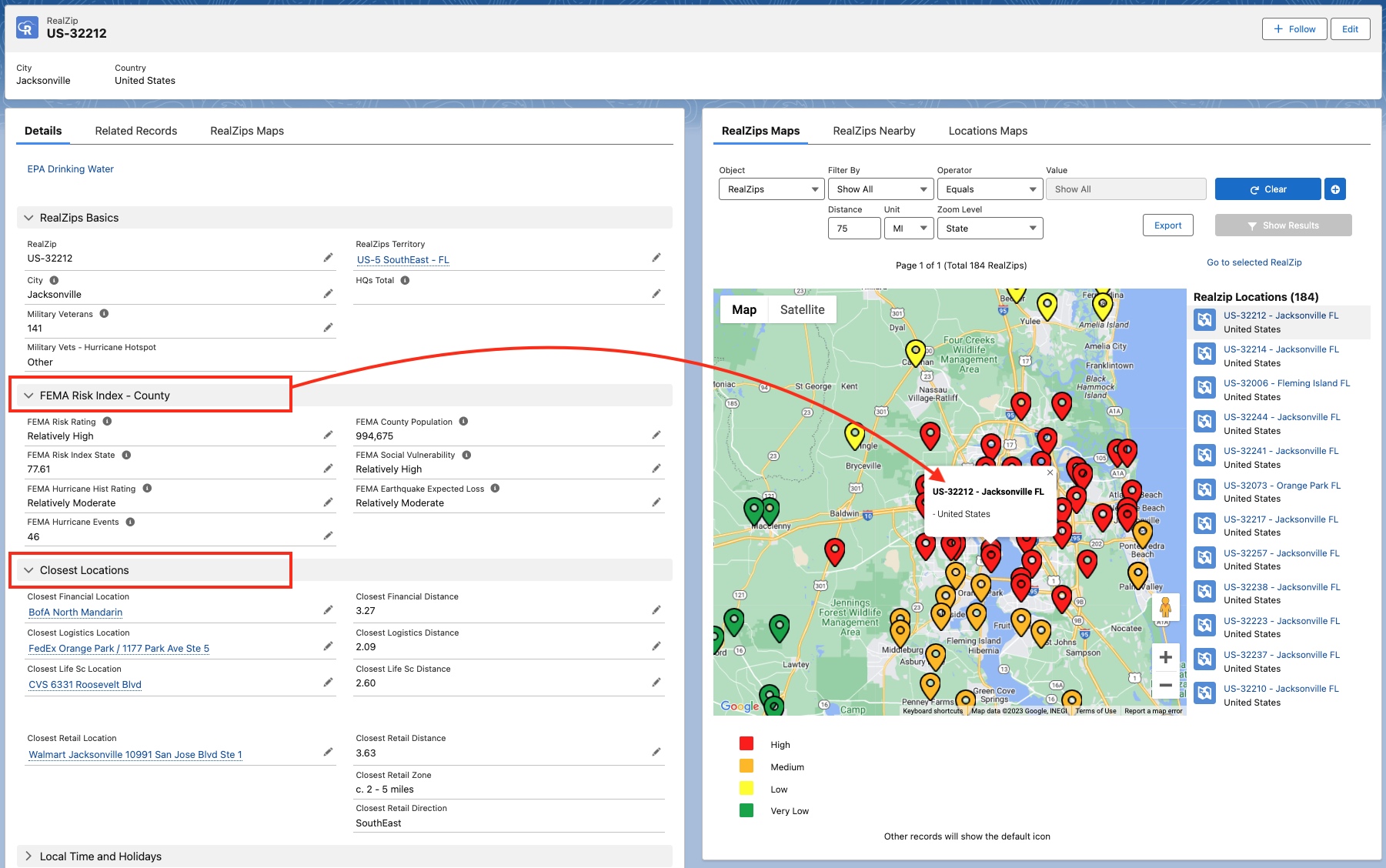 Contextual data, providing risk for natural disasters. Distances for key locations – closest to each zip code – are automatically calculated.
Explore AI capabilities, powered by contextual data
Let's say your team believes they are closing more Opportunities inside Metropolitan areas, with a really high population density. 
You can test out the theory by adding RealZips data points such as  'MSA Metro' (your geofence) and 'Population Density' to all Won Opportunities. Next, run the Salesforce Einstein Prediction Service across the Opportunities and learn if the theory holds up.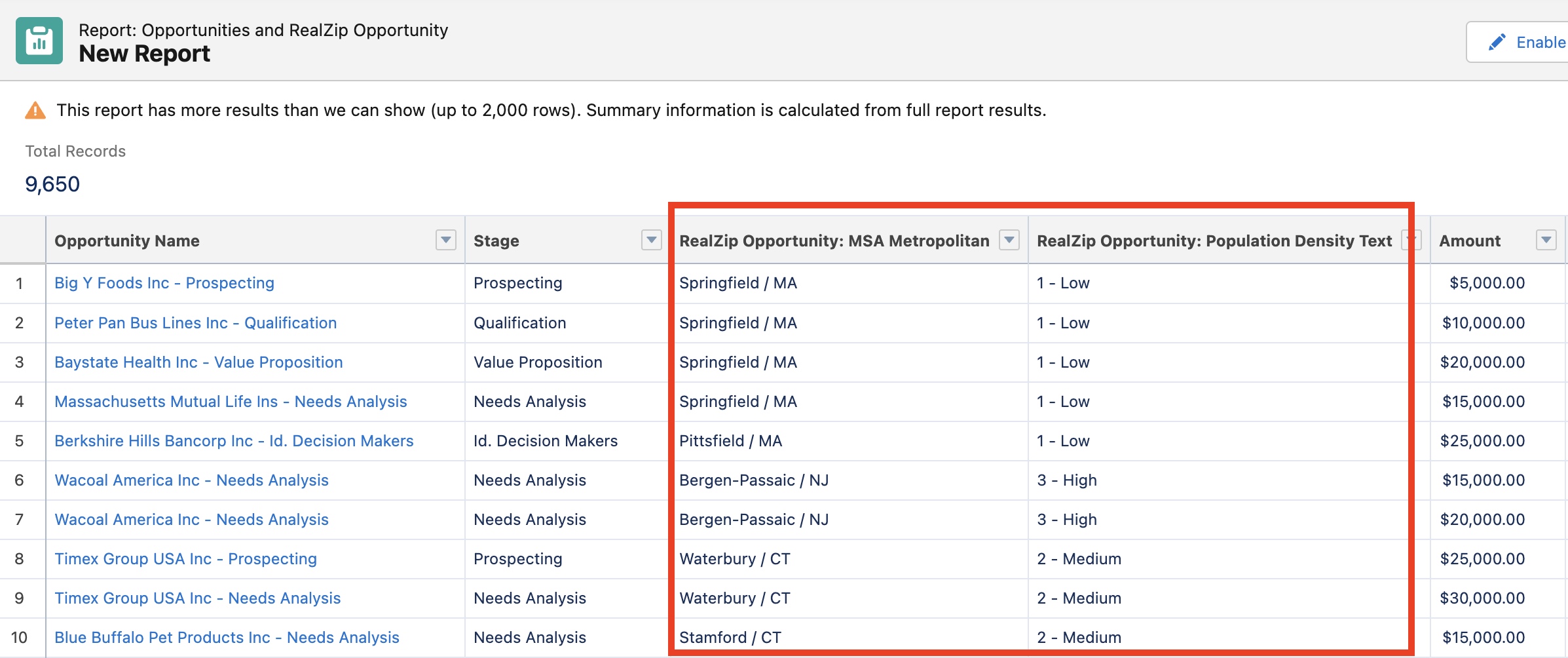 Prepare for AI success
It's possible to kick-start your team's AI journey simply by adding RealZips contextual geographic data to your records in Salesforce in a matter of hours. Install the RealZips free trial from the AppExchange and launch your AI success journey.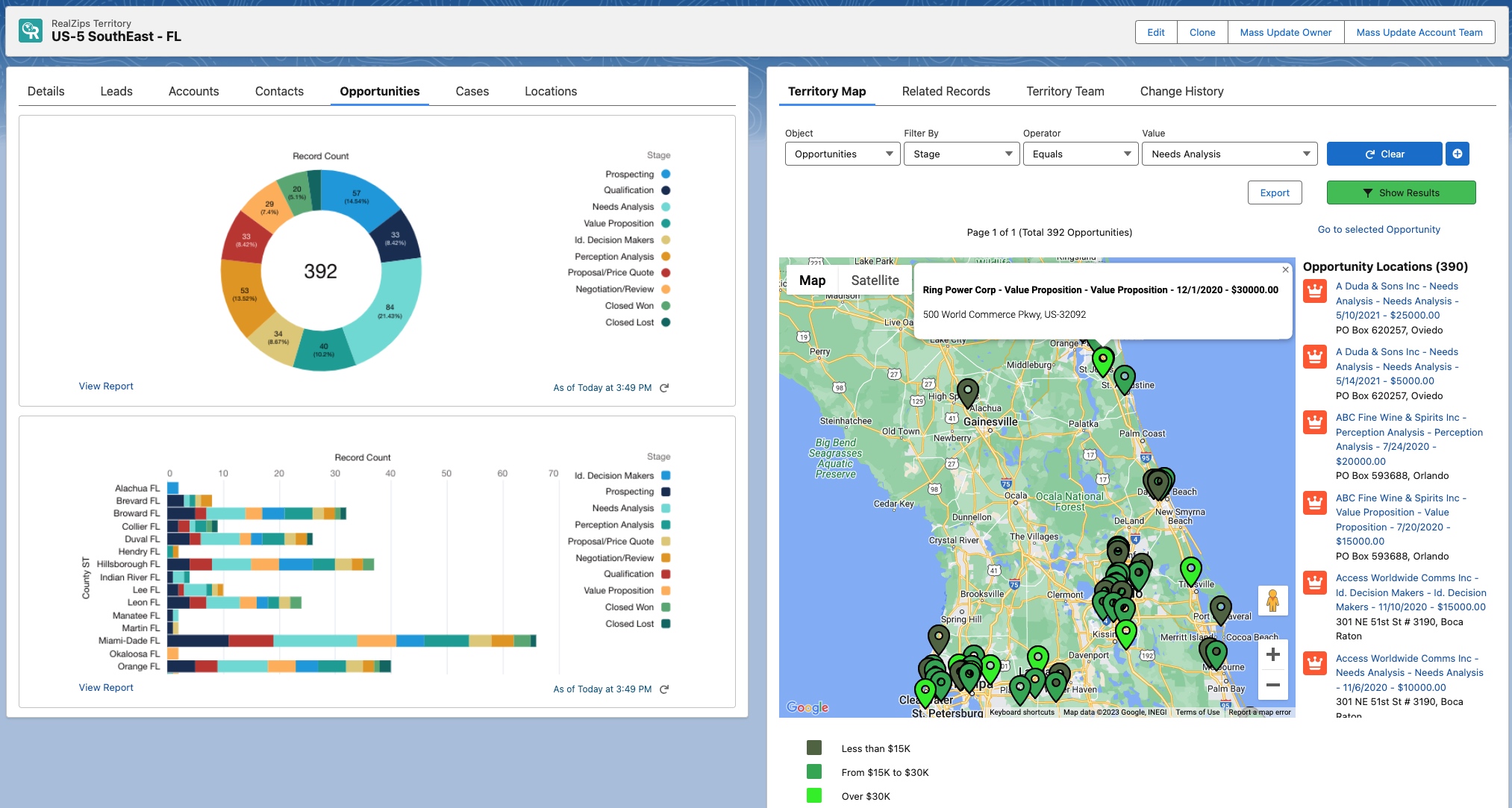 Prepare for AI success by organizing all records by territories and geographic zones. Close more deals – by applying AI predictions – based on your own data and RealZips geographic data.
Learn about Salesforce Artificial Intelligence capabilities: AI for Sales and CRM