After 25 years of developing and running CRM systems, every organization we meet has the same question:
The sales and marketing teams can't find their own data. How do we fix it?
If your team can't search customers and analyze data, many things happen:
Duplicate records are added, making it even harder to find data.
Sales can't find customers in the CRM system while traveling in the field.
Marketing can't effectively target cities, counties or metropolitan areas.
The team's trust in your organization's data goes down.
Overall usefulness of your CRM data is questioned.
We have witnessed numerous times how this scenario plays out. We kept thinking there must be a better way. What if we added Geographic Data to your CRM data?
What is GeoData?
Geographic Data (GeoData) is geographic data points of many types that enrich your customer data. Samples of GeoData are zip code validation, city and county names, metropolitan areas and time zones. GeoData also adds demographics, federal regions, your organization's complete sales territory information and more.
Why everyone needs GeoData
Search for "Fort Lauderdale" in your CRM system. Then, try to find all customers in that city by searching for "Ft Lauderdale." Most likely you won't find many until you also search for misspellings such as "Ft. Lauderdale" and "Fort Laderdale."
Next, you want to reach out to customers in towns near Ft. Lauderdale. Include the neighboring town "Hollywood" in your search. Now, your result will likely include customers in many other states:
How GeoData empowers your team
With all your CRM data enriched with GeoData, a search for "Fort Lauderdale" would uncover all the right customers immediately. If you need to include surrounding cities, simply search for the county "Broward FL."
Within seconds, you can view customers in the cities near Fort Lauderdale:
How GeoData drives sales success
The reasons to enrich CRM Data with GeoData are compelling:
Adding GeoData is a very quick process, providing a fast ROI.
Your CRM data will have a robust and useful geographic structure.
Searches, reporting and analysis will be very powerful for everyone.
Your entire organization will be able to do new things:
Search customer data across zip codes, cities, counties, metropolitan areas, sales territories, sales regions, time zones and federal regions.
Match up areas with great business potential against your lead data.
Your team will gain trust in their CRM data.
GeoData is intended to drive success by identifying and targeting the right customers, which will enable your team to close more deals.
Sample Salesforce Lead record enriched with GeoData
Salesforce records can be enriched with any type of GeoData. In the sample below, a Lead has been enriched with city, county, time zone, owner matching and more: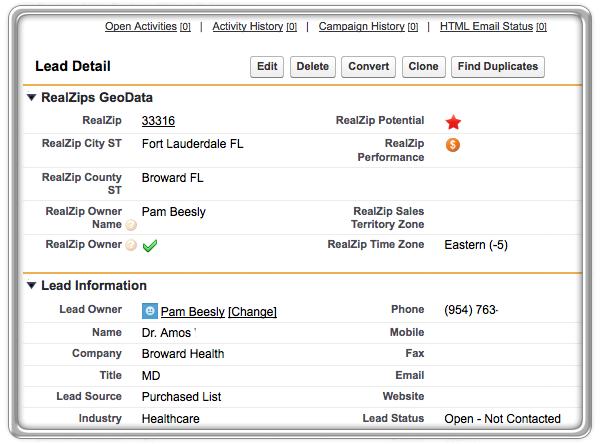 Hoping this blog helps bring ideas for your team on how to put GeoData to use in Salesforce. Please comment below.