You're ahead of the AI game
Teams using Salesforce have a tremendous advantage when it comes to rolling out Artificial Intelligence capabilities. Salesforce is quickly adding AI features on top of your existing customer data allowing you to rapidly unlock potential cost savings and revenue gains.
RealZips delivers shortcuts to getting value from AI,
eliminating the need to run data cleanup projects.
Tap into Artificial Intelligence
AI technology is rapidly becoming available and 84% of leaders agree that generative AI will serve their customers better. A whopping 92% of large businesses that already have invested in AI are seeing returns.
Make sure to start testing existing AI capabilities in Salesforce already today, learning how to make predictive analytics. Keep a close eye on what's gradually becoming available in the promising generative AI space right inside your Salesforce organization.
The data problem
Bad data quality and missing data are major hurdles for most organizations as they start tapping into AI opportunities. The premise of the new AI technology is however limited by the quality of your own data in Salesforce. 
Hard way: Scrub your Salesforce data
There are few shortcuts to improving your data, while preparing for AI-driven workflows. Here are a few common approaches for getting your data in shape: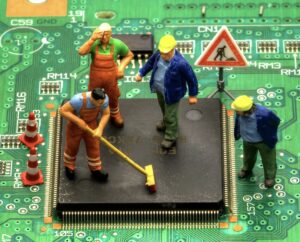 Update Account records with address, industry and key data points.

Update Contact records with address, title and valid email.

Look into services that test if contact email addresses are active. 

Harmonize and standardize picklists where possible.

Implement methods for record deduplication.

Identify old open Opportunities and start cleaning up.
Once you start digging into customer data that's been added over time, chances are that even a small data scrub project will take a lot of time and effort.
Keep in mind you probably have apps connected to Salesforce that use existing datapoints. Your Salesforce automation is very likely to use 'bad data' which makes data cleanup harder.
Easy way: Add RealZips GeoData
The RealZips app creates an automatic relationship between a Salesforce record and endless datapoints on the related zip code record. Instantly, you'll have access to datapoints from the zip code, such as city, county, state, territory, and much more. Data you can add is actually endless. Have a look at the  thousands of datasets available in our online store: RealDatasets.com
RealZips gives you immediate shortcuts for tapping into AI, since the RealZips app automatically augments existing data by adding contextual data to your records. For example you can geofence all customers by county, and prepare for AI predictive analytics by county!

Don't break integrations, searches, reports & dashboards
The RealZips app does not need to change any existing data, making the implementation of RealZips completely risk free. RealZips is simply bypassing all the problems associated with updating existing data fields to new values.
Most of us have seen data update projects break app integrations, mess up searches, render list views useless, distort function formula calculations, not to mention making critical reports and dashboards useless. RealZips makes it possible avoid these issues simply by delivering a data augmentation solution.
Add automatic contextual data
Contextual geographic data unlocks tremendous possibilities, that your team will be using every day across marketing, sales and customer support.
Think about contextual data as an automated process that provides critical market conditions for each record in Salesforce. Contextual data makes it possible to focus marketing and sales in geographic areas where your team is most likely to deliver success for your customers. 
Examples of contextual data from RealZips, used to improve all records in Salesforce:
Local incentives that will help your team sell a product or service.

Local laws and regulations that may promote (or block) the sale of your product.

Automatic geofencing by for example county, organizing customers by local jurisdictions.
Travel distance between sales team members and prospective customers.


Distance between open opportunities and your own service locations.

Distance between existing customers and your competitions' closest locations.

Insights into your customers' customers: age groups, income and consumer preferences.

Weather conditions such as sun hours per year, climate zone and FEMA based disaster risk.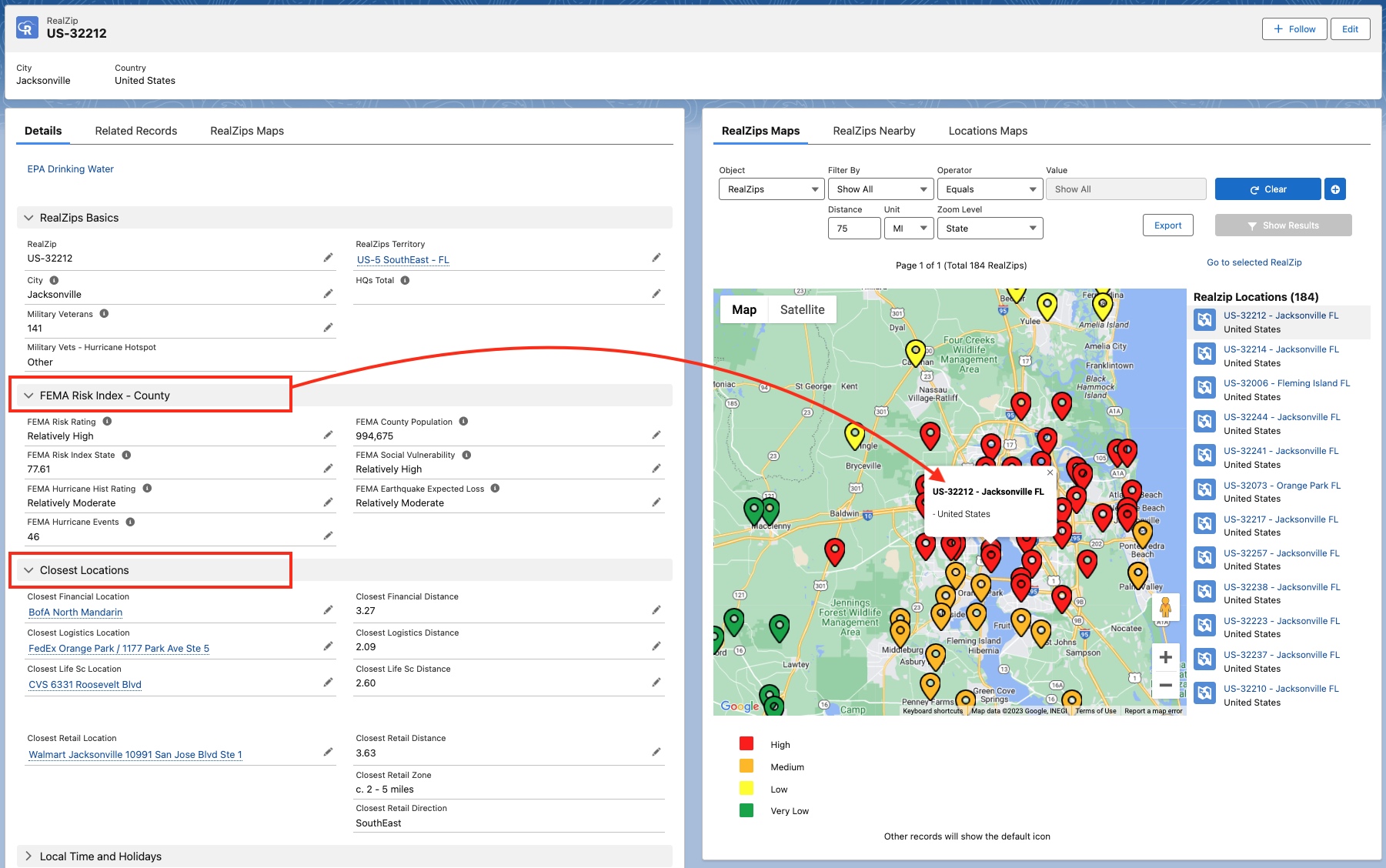 Contextual data, providing risk for natural disasters. Distances for key locations – closest to each zip code – are automatically calculated.
Explore AI capabilities, powered by contextual data
Let's say your team believes they are closing more Opportunities inside Metropolitan areas, with a really high population density. 
You can test out the theory by adding RealZips data points such as  'MSA Metro' (your geofence) and 'Population Density' to all Won Opportunities. Next, run the Salesforce Einstein Prediction Service across the Opportunities and learn if the theory holds up.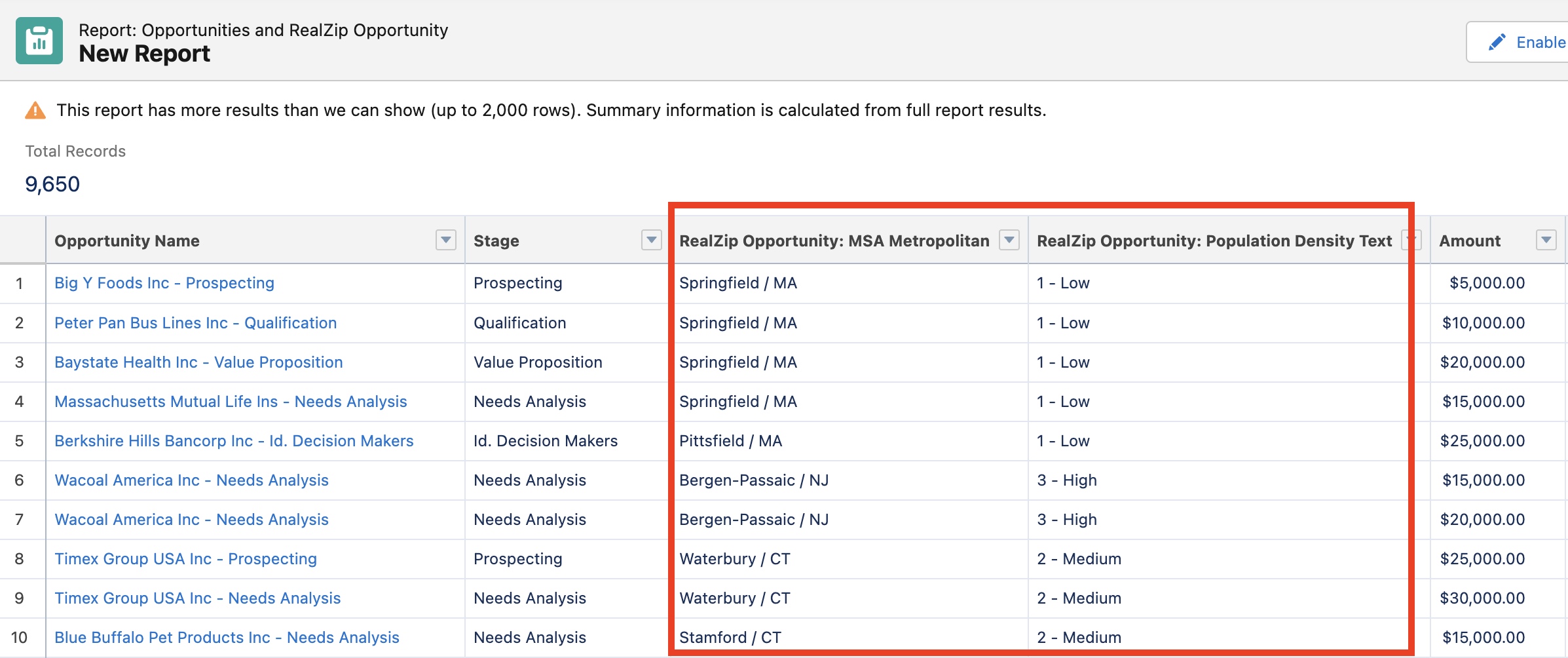 Prepare for AI success
It's possible to kick-start your team's AI journey simply by adding RealZips contextual geographic data to your records in Salesforce in a matter of hours. Install the RealZips free trial from the AppExchange and launch your AI success journey.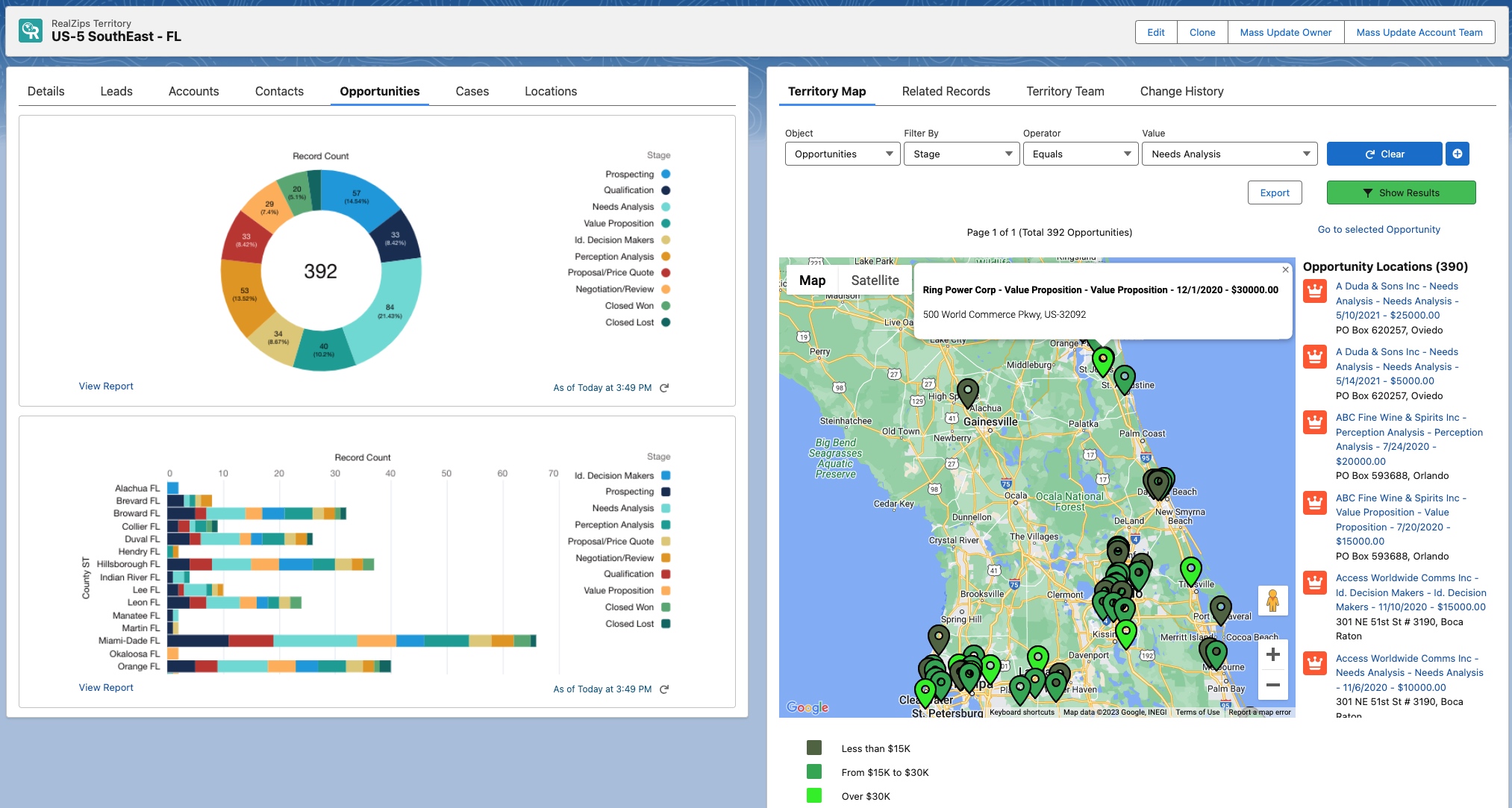 Prepare for AI success by organizing all records by territories and geographic zones. Close more deals – by applying AI predictions – based on your own data and RealZips geographic data.
Learn about Salesforce Artificial Intelligence capabilities: AI for Sales and CRM
RealZips is a data-driven territory management app for Salesforce. RealZips automatically organizes and enriches global customer data records in Salesforce.
Use cases for RealZips range across all industries. The reasons for implementing RealZips are surprisingly similar across different organizations.
These are five common challenges that RealZips will address, enabling you to deliver a better Salesforce User Experience:
Data Enrichment
Territory Management
Actionable Market Data
Salesforce Automation
Customer Focus
RealZips is designed to help your team save time and connect faster with customers.  Let's have a look at how you can solve these 5 challenges by implementing RealZips:
1. Data Enrichment
Lack of data points across your Salesforce records cause endless problems and inefficiencies.
Marketing can not effectively segment leads or run marketing campaigns in best-fit geographic areas. Sales can not automatically assign prospects and customers to the right sales resource. Assignments of Cases are delayed, creating friction with your customers.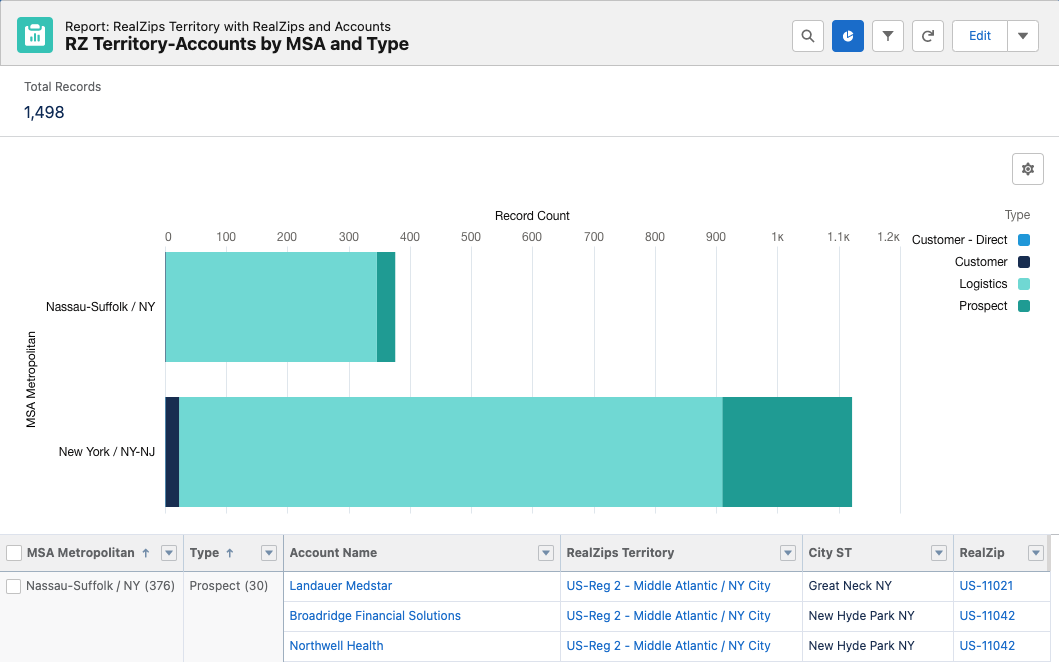 The Zip code and Country fields on your Salesforce records are used to automatically relate endless data points from RealZips app.
For example, all customer records can instantly be enriched with data points such as city, county, state, MSA metro, time zone, sales team, closest store, and more.
Data enrichment unlocks new ways for marketing, sales and operations to better serve customers.
These are examples of what you will be able to do with RealZips:
Add time zones to all records in Salesforce, so your team can time mailers better and schedule outbound calls at the best possible moment.
Activate County and MSA Metropolitan data points, allowing you to automatically group prospects into manageable sub-territories. Your team can now run perfectly targeted marketing campaigns and sales activities.
Set up automatic Drive Zones around sales and service team members, organizing customers records by distance. Enable your teams to maximize time with customers.
2. Territory Management
It's virtually impossible to provide your team with a scalable Territory Management solution, complete with interactive maps, dashboards, and integrated reports.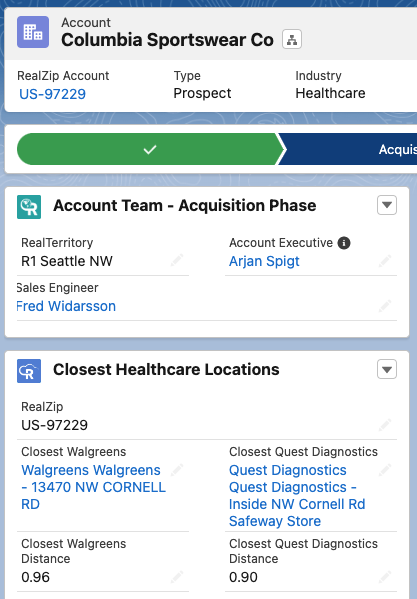 The standard Salesforce Enterprise Territory Management (ETM) does not support granular territory management on a Zip code level. Most organizations therefore struggle to manage smaller geographic territories, that divide states and cities. Overlapping territories is another major challenge, as territories are stacked on top of different sales teams, service teams and channel partners.
Home-grown workarounds for Territory Management quickly become confusing and impossible to manage. For example, sales teams must oftentimes use multiple dashboards, reports and links to mapping tools to understand the geographic assignment and ownership of customer records. Salesforce Admins are then forced to build a dizzying array of automation for owner assignment and Sharing Rules.
RealZips is designed to deliver a data-driven, reliable and scalable solution for Territory Management.
RealZips provides a platform for territory management, completely integrated with global customer data in Salesforce:
Out-of-box Territory Dashboards for immediate rollout
Territory assignment templates for instant territories
Management of overlapping territories across the world
Map components for any Salesforce page
Sales team management and ownership automation
Rules-based territory teams, displayed on Salesforce pages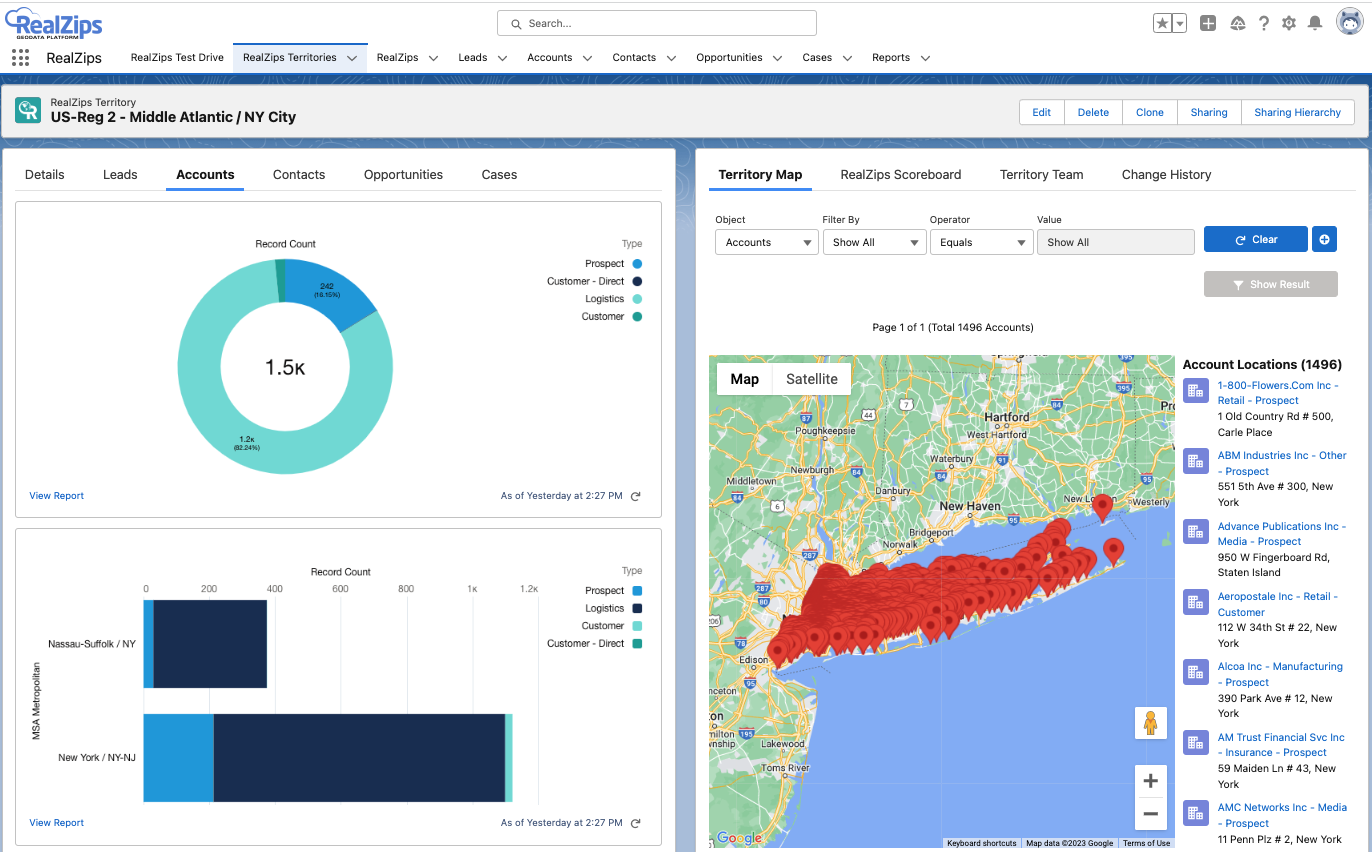 3. Actionable Market Data
Market data outside of Salesforce is very important, providing insights for strategic planning of marketing and sales teams. Stand-alone market data can range across demographics, consumer behavior, corporate data, regional incentives, local risk exposure and more. The problem is… it's outside of Salesforce!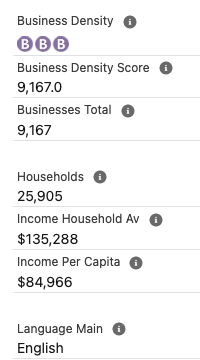 The day you start moving market data metrics into Salesforce – combined with existing customer data – is the day you're creating a substantial competitive advantage for your team.
Market data provides a framework for where to engage in marketing campaigns and sales activities, once the data is in Salesforce. The RealZips app was designed to blend your own customer data with deep market data.
Samples of Zip codes based demographic datasets, available in the RealDatasets.com store. These datasets can rapidly be uploaded into RealZips and integrated with existing records in Salesforce:
RealZips automatically combines customer data and market data, ranking geographic areas and customers based on local market conditions. For example, all prospective customers can be flagged for local incentives, changes in real estate value, or demand for product and services.
Market data in Salesforce opens up endless possibilities to understand each customer's local market conditions.
The RealZips app makes it easy to add actionable market data of any type to Salesforce. Here are a just a few examples: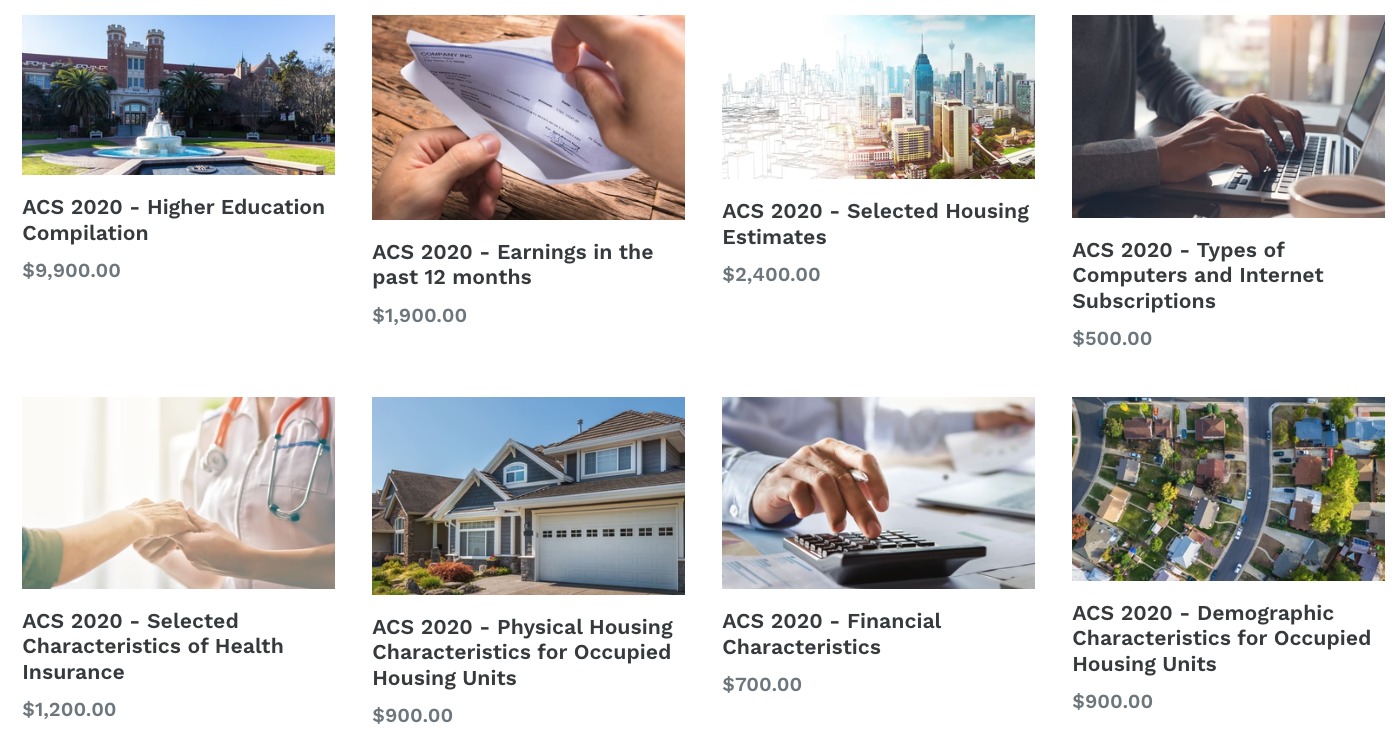 The market data you choose to add, can immediately be added to existing customers records. Prospects and customers will automatically be ranked based on market conditions, distance to sales and service locations, and much more.
Market data in RealZips sets a framework for automating processes, and allowing your team to make instant decisions across territory design, marketing campaigns, and daily sales activities.
4. Salesforce Automation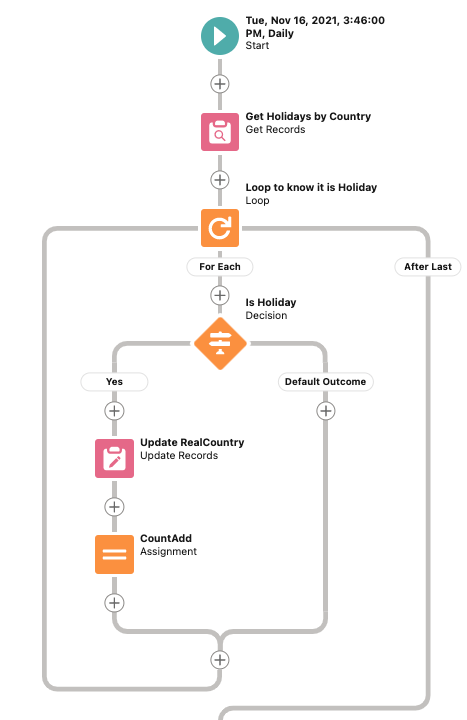 Trying to automate business processes in Salesforce with missing and incorrect data is a tremendous challenge.
Most attempts to automate processes will be limited to the quality of your existing data.
The Salesforce Cloud has fantastic capabilities when it comes to automation, especially when using Lightning Flows.
However – without useful data points to use in the automation process and logic – you can not make full use of Salesforce Automation capabilities.
RealZips takes your automation and Lightning Flows to new level :
Automate assignment of leads by combining territory information, geographic data and market data.
Configure flexible rules-based sharing of accounts, contacts, opportunities and cases.
Create assignment logic based on distance zones, applicable to stores, service locations, and sales team members.
Geographic markers such as County, MSA Metro, Territory and more can be used in your automation logic in virtually unlimited ways to speed up your teams' workflows.
RealZips provides built-in features for lead routing and ownership assignment, used by large global organizations to keep massive amounts of records assigned to the right team members.
5. Customer Focus
The RealZips app and data was designed to empower your team to focus on the right customers, in the right places, at the right time.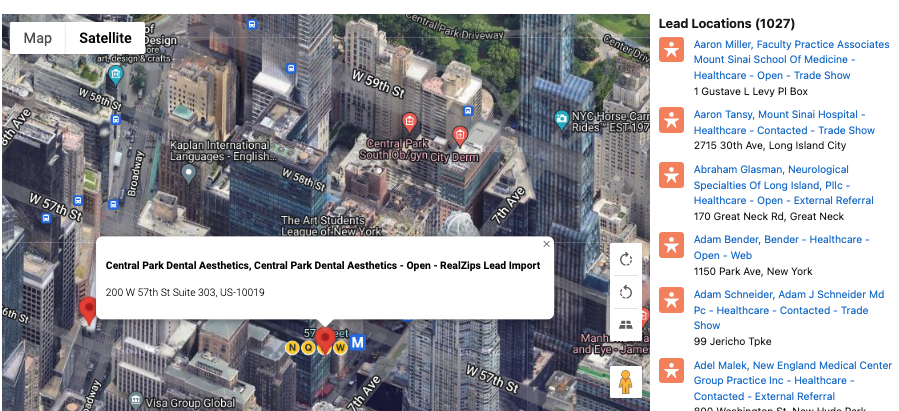 How RealZips unlocks your team's customer-first focus:
RealZips GeoData organizes your customer data into a geographic framework.
RealZips Territories makes it possible to roll out a powerful global assignment of internal resources.
Market Data provides local market conditions, used to drive marketing, sales and support activities.
Salesforce Automation enriched with RealZips makes it possible to build meaningful workflows that help your team focus on what matters most: Customers.
Automatically relate Salesforce records by distance
RealZips Version 12 is now available on the Salesforce AppExchange! The latest version of the RealZips GeoData Platform comes with a new feature named RealZips Closest. This new feature makes it possible for you to automatically relate Salesforce records by distance!
RealZips Knowledge base: How to configure RealZips Closest
What does this mean for your team?

RealZips Closest allows you to calculate distance between key locations and Salesforce records.
By adding distance data to Salesforce, it's possible to run operations more efficiently. It's now possible to run highly targeted marketing campaigns, laser-focused sales activities and smooth field service operations!
RealZips Closest can assign leads automatically to the closest resource such as a sales representative, store or channel partner. This article outlines how to use RealZips Closest to improve logistics and create awesome Salesforce automations.
10 min explainer
Scrub timeline to jump across chapters:

Solve major challenges, relating Salesforce records by distance
Common challenges that RealZips Closest can fix
These challenges impact any team's productivity on a daily basis. RealZips Closest makes possible to eliminate these problems.
1. Logistical challenges
To drive revenue growth, it's crucial to enable your sales team to operate efficiently. It's a matter of  setting your Salesforce organization in way that helps your team get to the right customer data immediately. By using RealZips Closest for automatic distance relationships across your customer data, you're empowering your team to make instant decisions. For example, your team will be able to pinpoint all customers within a 5 mile zone from any service location!
RealZips makes it possible to minimize your logistical challenges, as soon as records in Salesforce are automatically related to the closest locations. For example, Leads and opportunities will automatically be related to the closest sales rep, store, service center or a corporate location.
2. Lead routing
We're sure you've noticed how inefficient lead management or lead routing are substantial business challenges, making it harder to sign up new customers. RealZips Closest will allow you to automate and speed up lead management for your team. Thanks to this new feature, it's extremely easy to automatically assign leads to for example the closest store.
Most companies do not have a strategy for leads and customers located far away from their locations. Before implementing RealZips – they simply assigned customers to a field-based territory – no matter how far away a sales rep, store or service locations might have been! This approach is unfortunately very costly and inefficient. With RealZips Closest, you will be able to solve the problem by automatically assigning customer records to "Out of Market" territories, allowing these customers to be served by efficient virtual teams!
3. Account ownership automation
The next challenge is account ownership. Reliable methods for account ownership automation is absolutely crucial for your team's success. With theRealZips Closest feature, you can immediately assign prospects and customers to e.g. the closest sales development rep or account executive.
RealZips Closest works with existing zip code-based territories, giving you the best of both worlds. You can set up account ownership assignment to allow the best-fit account executive to engage with the right customer, based on industry, skills, customer stage, distance, and more: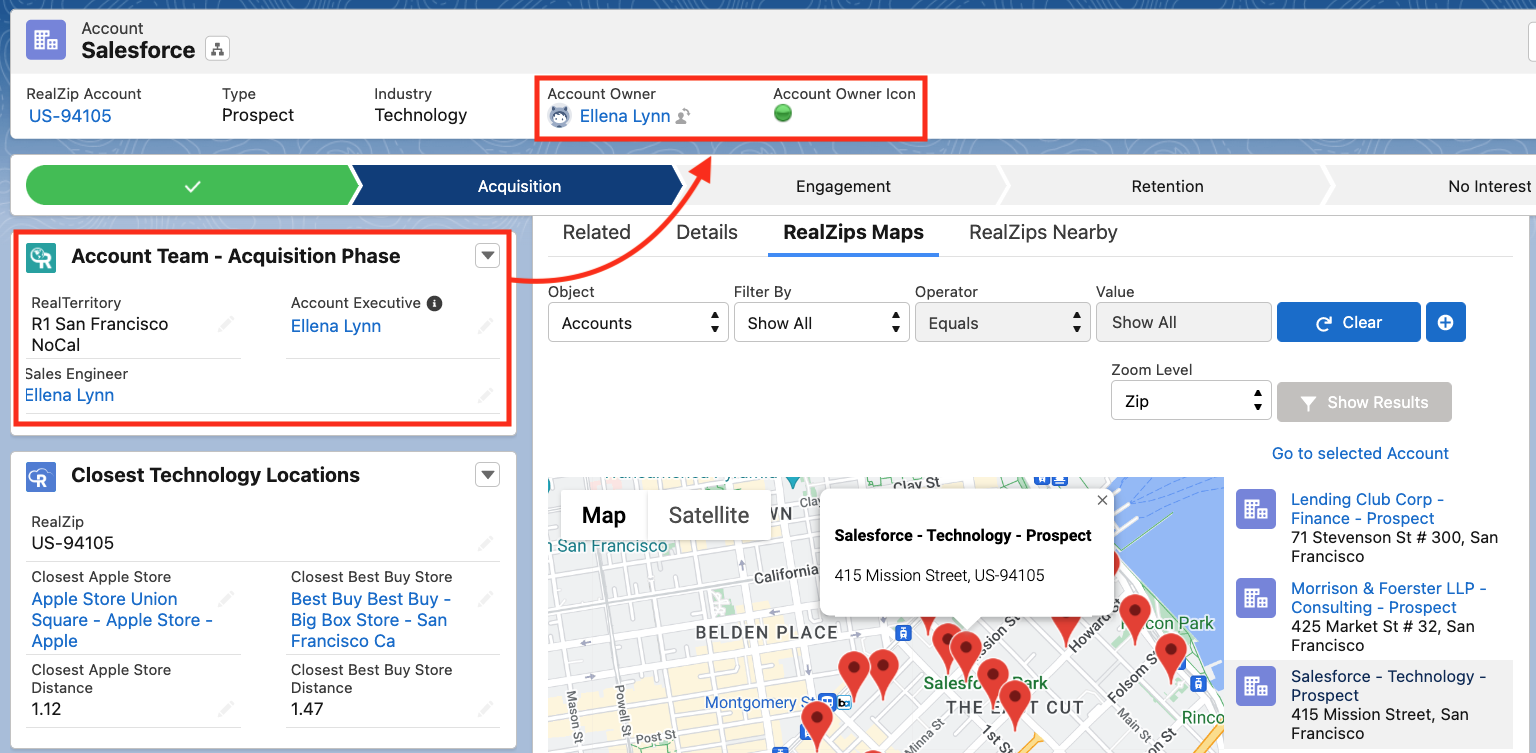 4. Instant distance analytics
RealZips Closest makes it possible to immediately analyze records in Salesforce by distance to critical locations. Closest locations can be sales team members, service team members, store locations, partner offices or airports.
Customer records can be given an automatic "Serviceability Index". For example, a "best-fit" customer location may need to have a salesperson within 50 miles and a service location within 25 miles.
Your entire customer database can be analyzed by these distance metrics, making it possible to discover geographic areas that your team will be able to serve best. On the flip side, areas that can not be serviced in a cost-efficient and timely manner will automatically be red-flagged.
Powerful use cases for RealZips Closest

Here is a list of popular use cases for RealZips Closest,
that you will be able to configure for your team:
Automated distance zones around service & sales representatives
and stores.
Assign incoming leads to the nearest store, partner channel,
or sales rep.
Send cases automatically to the nearest service technician or
partner service provider.
Immediately review each lead within at a distance of 15 miles from
an airport your team will travel to.
Divide the entire customer database by distance to the closest
sales rep and meeting venue.
Run marketing campaigns based on distance zones from events
and partner locations.
RealZips Closest:
What makes it possible to automatically relate salesforce records by distance?
After looking at these use cases as well as the challenges solved by RealZips Closest, you must be curious to see how this will work for your team.
RealZips Closest can be used to manage many distance relationships at the same time, making it possible to solve overlapping use cases. You can set up a number of different locations such as competitive outlets, field sales reps, own stores and more.
Here's an example that will outline how you will be able to help you team succeed:
Relate distance data for 172 Apple stores automatically
Your Salesforce Administrator quickly relates all Zip codes with the closest Apple store. Instantly, your entire customer database in Salesforce  will be related to the nearest Apple Store!
Display "Closest" locations on each Salesforce record
You can show closest locations in many different ways on for example Leads and Accounts. In the example below, the Closest Apple Store to the Account record is displayed. Keep in mind, this relationship between the Account and the Closest Location opens up endless possibilities for automation in your Salesforce Org. For example, you can immediately assign the Account to the closest Sales Engineer!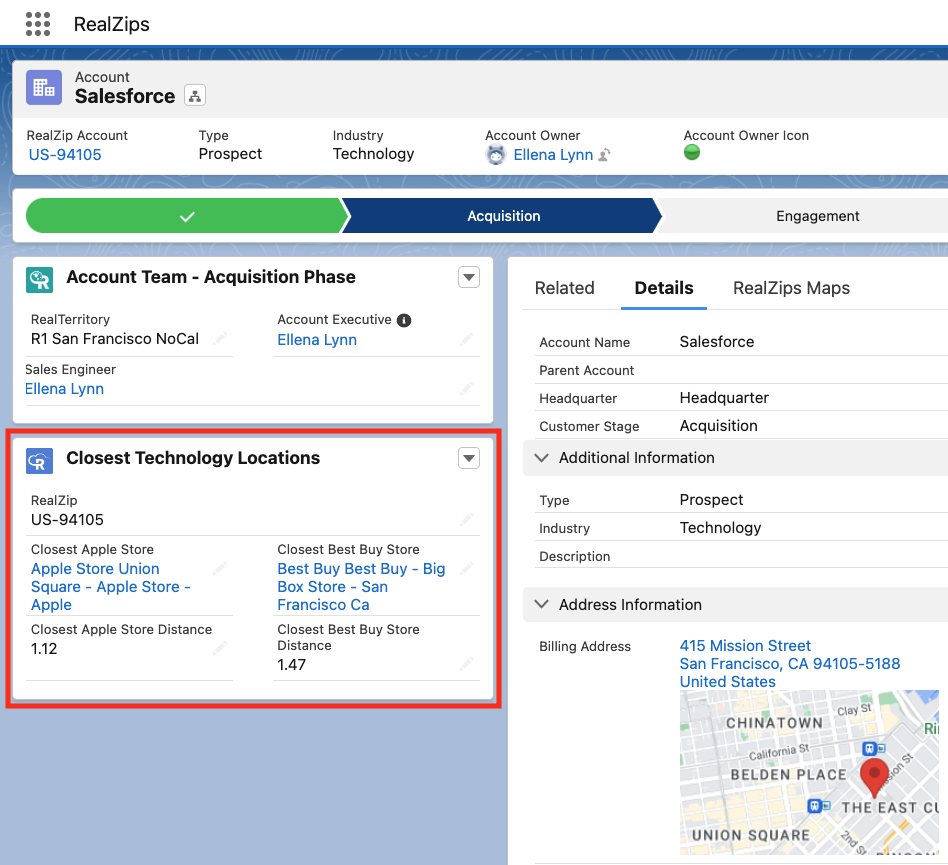 By adding this type of distance data to your existing Salesforce customer data, you will open up fantastic possibilities for your team. RealZips Closest will enhance your own Salesforce data in completely new ways, allowing for connecting faster with customers and removing logistical challenges.
Standard Salesforce reports, showcasing accounts by distance
Reports and analytics in Salesforce is nothing short of fantastic. Now, you can take reporting to the next level by adding RealZips Distance Zones!
You can create unprecedented reports, allowing your team to to analyze the accounts by distance zones to the closest locations.
In the screenshot below, 60,000+ accounts are automatically associated with the closest Apple Store. Notice how the distance zones are highlighted in different colors: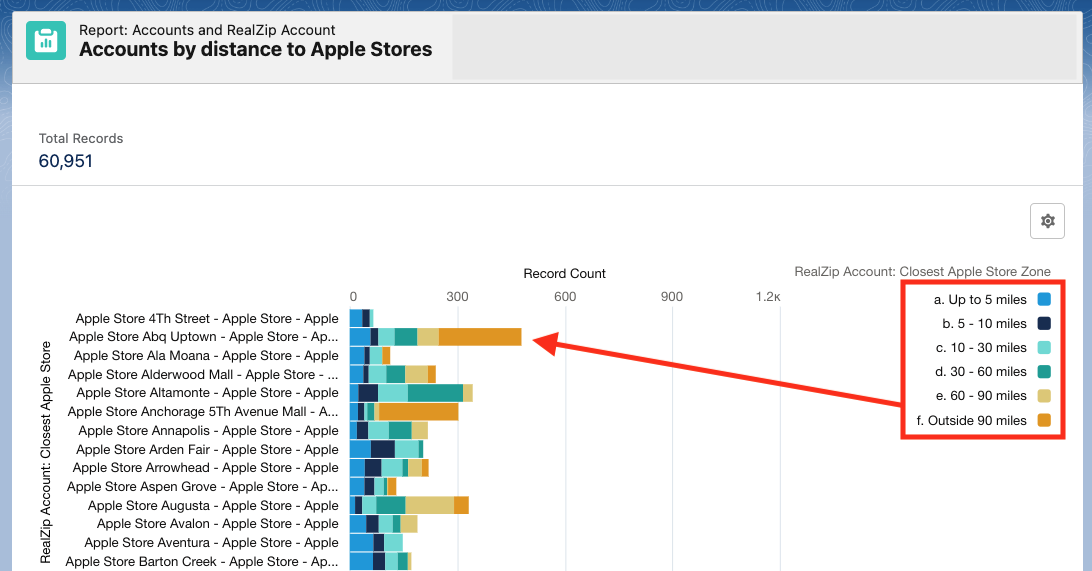 Actionable Salesforce reports
Empowered with  these distance zones, your team can approach their customers based on distance. Customers within a 10 mile distance can instantly be invited to the closest store. For customers 30 miles or further away from a store, the goal could be to give them a meaningful online shopping experience.
Here's another example. Your team is co-hosting a pop-up event at the Union Square Apple store. The report below filters out existing customers within 5 miles of the location. Next, run a report on these contacts, add to a Campaign and invite your customers to the upcoming event: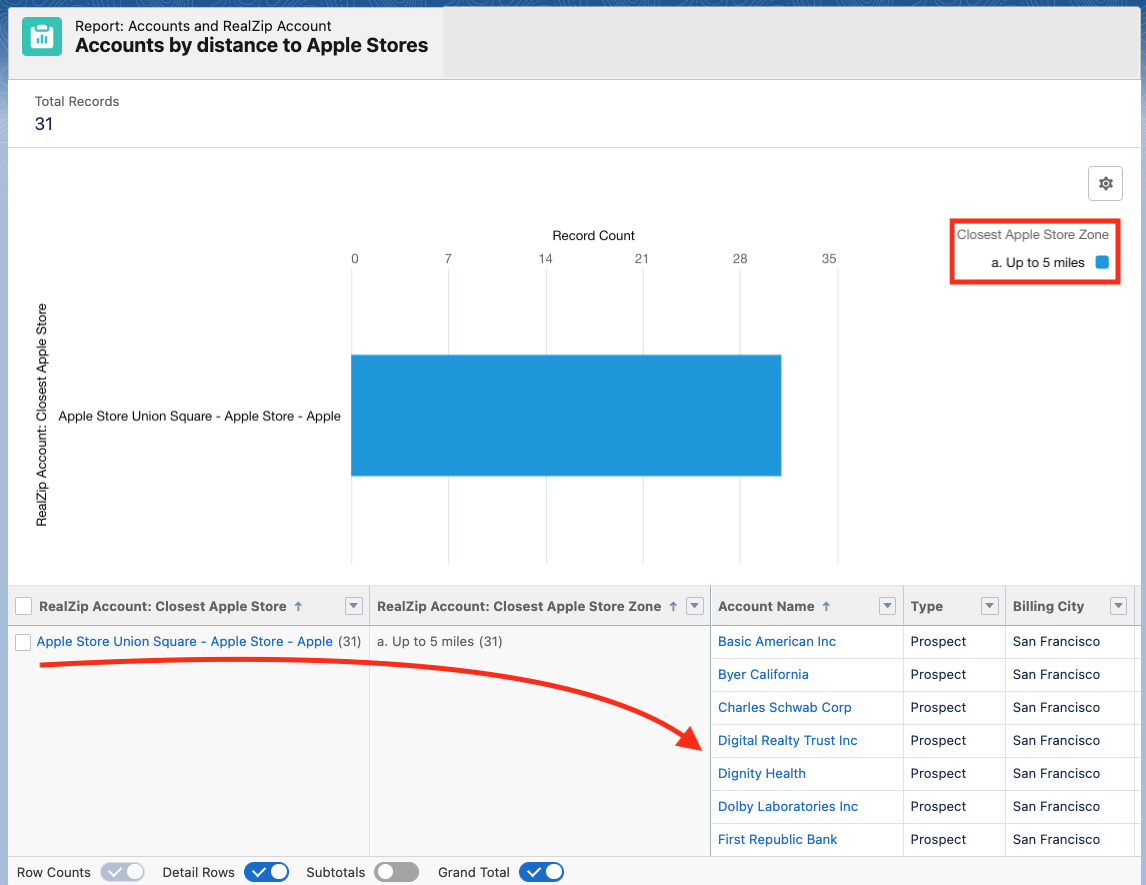 Drive success for marketing, sales and service
Go ahead. Start relating your Salesforce records by distance!
By now, we believe you have many ideas on how RealZips Closest feature will empower your team to market, sell and service in completely new ways. Your team will be able to minimize downtime and focus on areas where they can best serve the most number of customers.
When your are ready to automate business workflows and drive success with RealZips, simply go ahead and Book a Demo with us.